17W Solar Powered LED Shop Light, Motion Sensor, 5000K, IP65 Grade, ETL Listed (2-PACK)
🚚 Free shipping for all orders
Order in the next
[totalHours] hours %M minutes
to get it between and
Description
Introducing Our Solar-Powered Shop Light: Your Eco-Friendly Lighting Solution

Energy-Efficient Brilliance:
Harness the power of the sun with our solar energy-driven shop light. No need for grid electricity, making it a sustainable choice.
Illuminate your carport, shed, camper, or any location without direct access to electrical power.
Smart Motion Sensor:
Our commercial electric solar-powered light features an intelligent motion sensor.
It automatically activates only when needed, conserving energy and extending its lifespan.
Enjoy bright lighting with motion detection extending up to 8 feet when mounted at 10 feet.
Provides up to six hours of continuous operation, lighting up when the ambient light drops below 20 Lux.
Ingenious Split Design:
Hykolity's solar-powered shop light comes with a generous 15-foot/4.5-meter wire, suitable for both outdoor and indoor use.
The innovative split design separates the solar panel from the light itself.
The waterproof 15-foot cable enables versatile placement in sheds, gazebos, balconies, garages, barns, homes, gardens, yards, patios, parks, porches, chicken coops, and pavilions.
Effortless Installation:
Forget about complex wiring. Our solar-powered shop light can be swiftly installed anywhere.
Just position the solar panel where it can soak up direct sunlight, and you're ready to install the portable light.
No need to fret about outlets or junction boxes.
IP65 Waterproof and Durable:
Engineered for durability, our shop light boasts an IP65 waterproof rating and is crafted from robust PC material.
It can withstand rain and various extreme weather conditions.
Each light connects to the solar panel via a 15-foot cable, allowing you to keep the panel outdoors for charging while hanging the light indoors or under a roof.
Embrace Eco-Friendly, Hassle-Free Lighting:
Upgrade to our solar-powered shop light today and experience eco-friendly, easy-to-install brilliance that adapts to your lighting needs, day or night.
5 Years Warranty:
Hykolity LED shop light is offered 5 years warranty against any defect in materials and workmanship, and covers most damage and shipping costs for replacements. Contact us for any quality issues.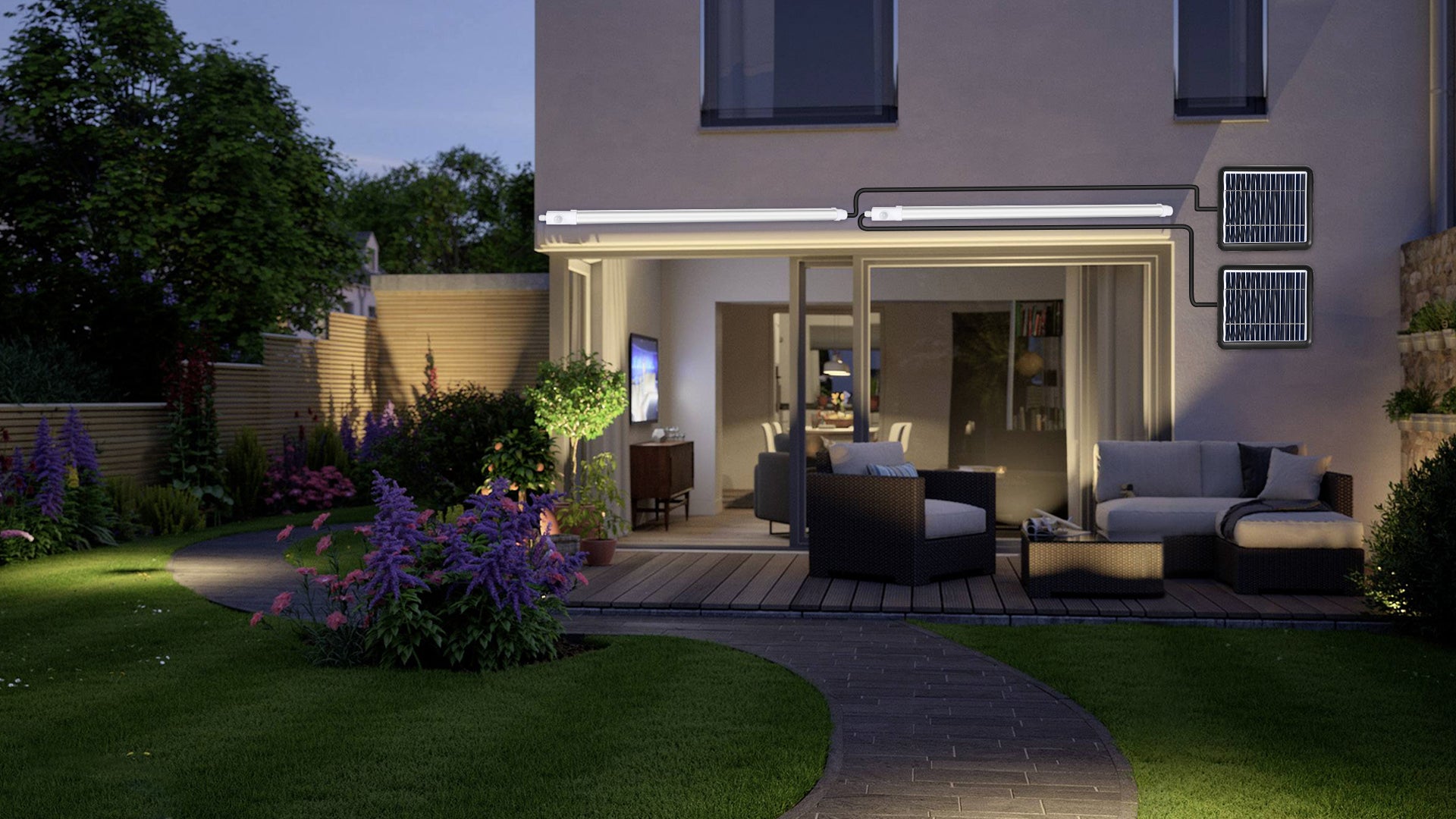 17W Solar Powered LED Shop Light, Motion Sensor, 5000K, IP65 Grade, ETL Listed (2-PACK)
$59.99