Hykolity 6.5'/7.5'/9' Premium Prelit Christmas Tree with Color Changing Twinkly LED Lights, Branch Tips, Metal Stand & Hinged Branches, 11 Color Modes
🚚 Free shipping for all orders
Order in the next
[totalHours] hours %M minutes
to get it between and
Hurry up! Limited-Time Offer Ends in
%-D
%!D:Day,Days;
%-H
%!H:hour,hours;
%-M
%!M:min,mins;
%-S
%!S:sec,secs;
Frequently Bought Together
Description
| | |
| --- | --- |
| Brand | Hykolity |
| Recommended Uses | Christmas Tree |
| Special Features | Prelit; 11 Color Modes |
| Material | Metal |
| Base Type | Stand |
| Tips & LEDs | 9ft - 4240 Tips - 750LEDs |
| -- | 7.5ft - 2806 Tips - 500LEDs |
| -- | 6.5ft - 2024 Tips - 350LEDs |
| Dimensions | 9ft - 58"D x 58"W x 108"H |
| -- | 7.5ft - 50"D x 50"W x 90"H  |
| -- | 6.5ft - 46"D x 46"W x 78"H |
Elevate Your Holiday with Our Ultimate Color-Changing Prelit Christmas Tree
✨ Mesmerizing Color Transformation: Our pre-lit Christmas tree is adorned with revolutionary Color Changing Twinkly LED lights, granting you full control over a spectrum of enchanting colors, light shows, and a selection of preset patterns. Experience a truly magical holiday atmosphere right at home. These bulbs are UL-certified for safety, with a clever design that keeps them lit even if one bulb happens to burn out. A convenient foot pedal switch puts the power of 11 different light colors right at your fingertips.
🌲 Natural Splendor, Effortless Beauty: This Christmas tree, replete with a combination of PE and PVC branch tips, boasts a stunningly lifelike appearance. The branches are thoughtfully designed for easy fluffing and shaping, creating a splendid and naturally abundant canvas for showcasing your cherished ornaments.
🧩 Setup and Storage Made Simple: Setting up your Christmas tree is a breeze, thanks to the convenient hinged branches. They elegantly fall into place around the central pole. After the celebrations, they fold back neatly for storage, making the process equally hassle-free.
🔒 Sturdy and Built to Last: Our prelit Christmas tree features robust metal hinges, a sturdy metal tree stand, and fire-resistant PVC branches, all supported by UL Listed LED bulbs. This assures you of a Christmas centerpiece that will bring joy to your holidays for years to come.
🤝 Reliable Warranty and Service: Hykolity proudly stands by the quality of this prelit Christmas tree, backing it with a 1-year warranty. We're committed to providing top-notch customer service directly from the manufacturer. If you encounter any quality concerns within the warranty period, please do not hesitate to contact us. We offer hassle-free exchanges, ensuring your satisfaction.
Light up your holidays with the brilliance of our Color-Changing Prelit Christmas Tree. Elevate your festivities and create unforgettable memories with your loved ones.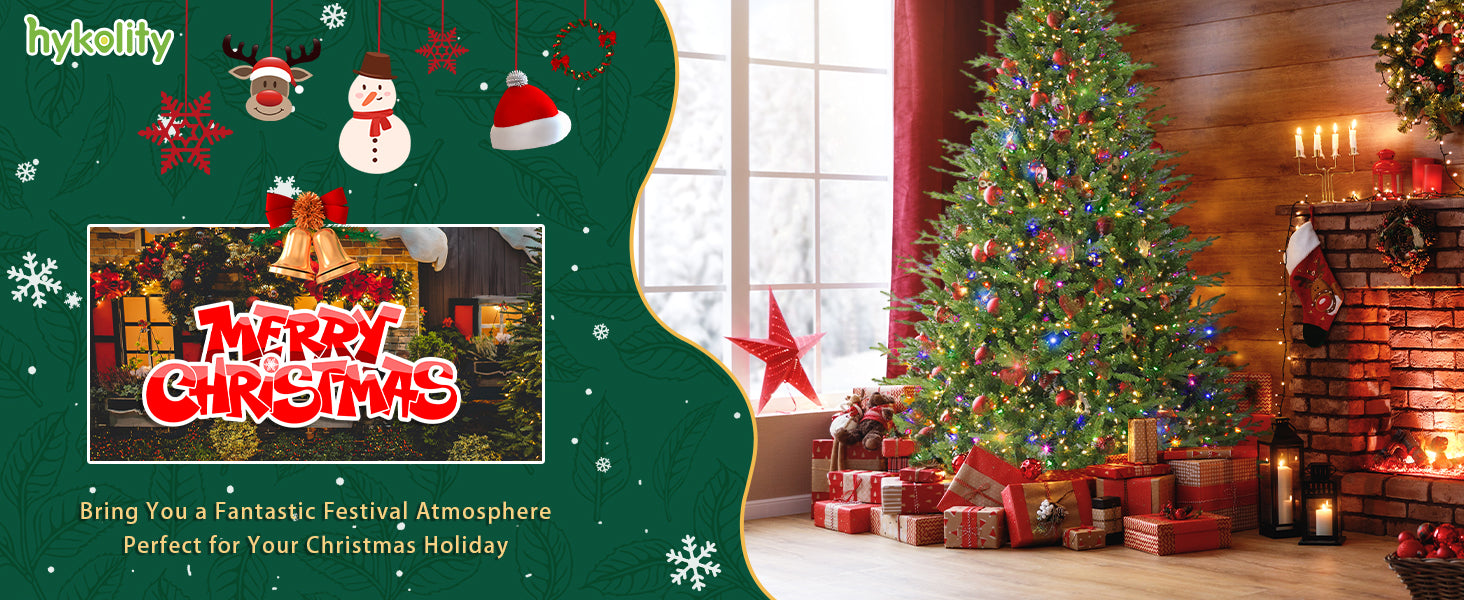 Excellent Workmanship & Design
------------------------------------------------------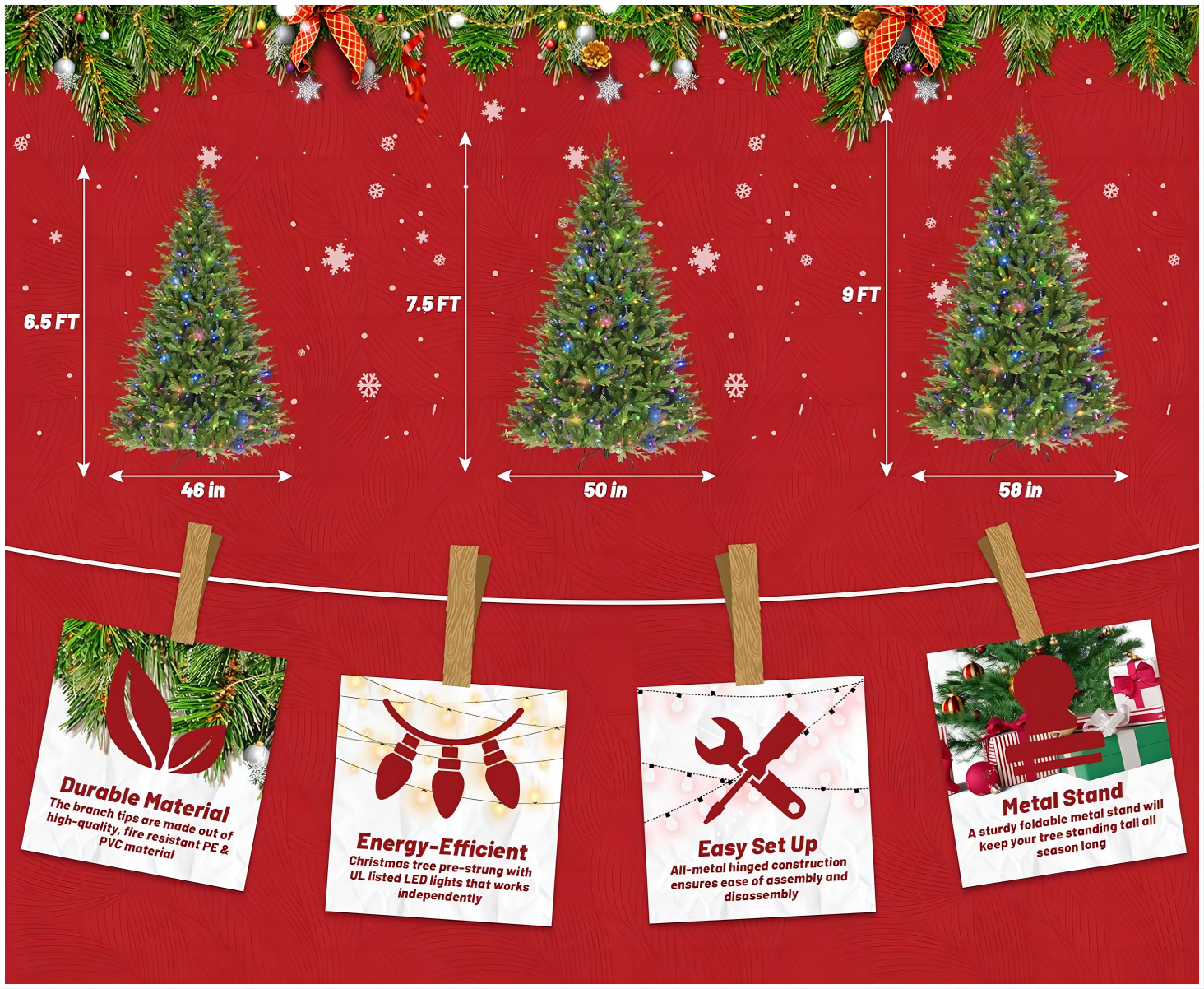 Enjoy Your Party with Hykolity Christmas Trees
------------------------------------------------------
Hykolity 6.5'/7.5'/9' Premium Prelit Christmas Tree with Color Changing Twinkly LED Lights, Branch Tips, Metal Stand & Hinged Branches, 11 Color Modes
$159.99
6.5FT - 2024Tips
Excellent tree. A great choice. Light choices are wonderful
 The tree has a different material at the ends to help hold ornaments and look even better. Very easy to assemble. Very happy with this choice!!!Incredible light choices.
Awesome tree for fraction of cost!
Should maybe add a little more detail on how to put together the lights! Customer service was awesome! This tree is less than half what of what a comparable tree from other vendors would be. Awesome - does need some fluffing, but it's great!